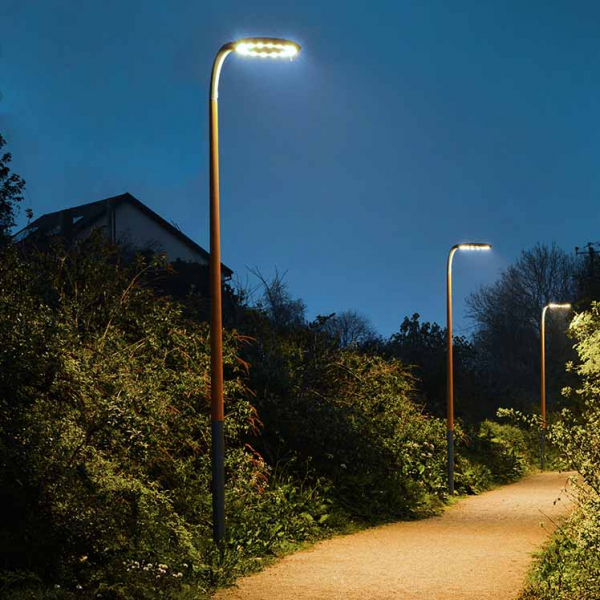 WARM LIGHTING TRANSFORMS UNDERUSED WALKWAY
---
Warm lighting transforms underused walkway
The challenge
Greystones is a coastal town and seaside resort in County Wicklow, Ireland. It lies on Ireland's east coast, 3.5km south of Bray and 24km south of Dublin city centre - an area which has recently seen new housing and retail developments.
To cater for this, Wicklow County Council wanted to improve the quality of an underused pedestrian link pathway - Mill Lane - encouraging users from Eden Gate, Glenbrook Park and new Glenheron housing developments to walk to Greystones.
New lighting played an important role in creating the desired environment.
Client and partners
Client

Wicklow County Council

Partner

Street and Park
Key project requirements
An attractive luminaire to encourage users to make use of the pedestrian link.
Comfortable light to create a safe and welcoming atmosphere
Meet the requirements of P4 lighting class.
The solution
Our Sephora Halo curved arm direct post top luminaires are now installed along the previously unlit walkway. Utilising a performance light engine and mounted at human scale 5m, 26m apart, the low glare appearance is ideal for the pedestrianised area.
The striking Radius style, selected for its contemporary curved aesthetic, blends seamlessly with Valmont timber columns, providing an eye-catching statement in the rural location.
Pedestrians using pathways at night want to feel comfortable as well as safe. A 3000K colour temperature and an 80Ra was selected to create a soft and welcoming ambience while promoting feelings of safety for local users.
The scheme was designed to P4 lighting class, providing an evenly lit walkway to 35lux.
Ruairi O'Hanlon, Greystones Municipal District Engineer, states,
" I chose the timber columns to give a parkland effect to this green route. The Sephora Halo was chosen for its striking, unusual design to create a walkway that was a desirable route to walk from residential area to a retail and sports facilities of Mill Road."
"Sephora is a highly attractive luminaire which (when combined with timber columns) has added an interesting new aesthetic to the area. The end client is very happy with the uniform light from the Sephora installation and the safe and welcoming environment created: increasing footfall along the path "
Colm Carton, Director Street and Park